Advisors Feel Annuities Suitable for Retirees and Pre-retirees
More than a third of pre-retirees are very worried about running out of money in retirement, according to Secure Retirement Institute® (SRI®) research. Annuities can protect principal and provide guaranteed lifetime income, alleviating pre-retirees' and retirees' concerns about their longevity risk. However, while annuities have features uniquely suited to retirement, they are not necessarily appropriate for all retiree and pre-retiree investors.
New SRI research asked advisors which market segment was the best suited for annuities, among their typical retiree and pre-retiree clients. The research also looked at whether advisors have seen any changes in clients' views about annuities.
Most advisors consider wealthier clients (with $1 million or more in household investable assets) to be a less appropriate segment for annuities than clients with lower wealth levels. Among advisors servicing middle- and mass-affluent market segment (under $500,000 in assets) retiree and pre-retiree clients, nearly half (48%) feel that annuities are most appropriate for these clients.
Other SRI research shows households with less than $500,000 in investable assets made up 60% of annuity owners; households with $500,000 to $999,999 in investable assets and households with $1 million or more each represented 20% of owners.
When it comes to how much advisors recommend investing in annuities, the broad answer is: It depends. Advisors would generally recommend a substantial proportion of retirees' and pre-retirees' assets — $1 in every $3, on average — should be put into annuities, depending on the client's wealth levels and the advisor's own affiliation with a distribution channel.
Advisors servicing clients with less than $500,000 in household investable assets would recommend 37% of the portfolio be placed in annuities, on average. Advisors working with wealthier clients feel that their clients should only invest 27% of their assets in annuities.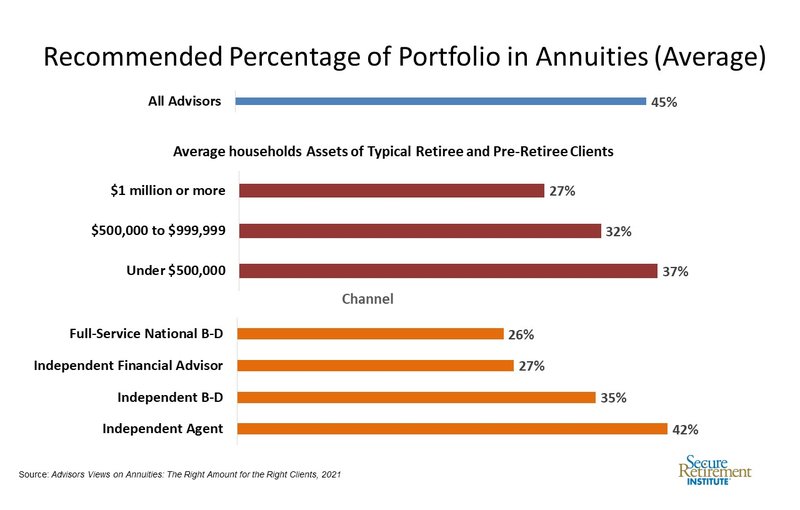 Are clients expressing interest in annuities? Not necessarily, according to SRI research. On average, the vast majority of recently retired and pre-retiree clients — 79% — did not bring up the subject of annuities with their advisors over the past year.
Advisors whose typical retiree and pre-retiree clients have less than $500,000 in household investable assets report that nearly one quarter raised the issue; only 14% of the clients of advisors catering to clients with $1 million or more in assets brought up annuities.
While they may not be bringing up annuities, advisors believe that retirees and pre-retirees have better perceptions of annuity products in recent years. About 4 in 10 advisors agree that their clients' perceptions of annuities have improved over the past several years.
"The COVID-19 pandemic led to extreme market volatility and investor anxiety. It also may have led pre-retirees and recent retirees to consider how their portfolios are doing, seeking ways to protect their assets against loss," says Matt Drinkwater, corporate vice president of Retirement Research, SRI.